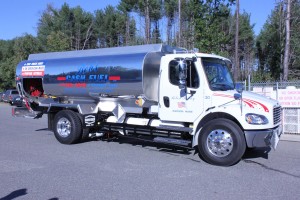 We deliver Kerosene to all outside tanks unless the owner of the property signs a Waiver.
Minimum Oil and Kerosene delivery is 100 gallons. If under 100 gallons a $20.00 charge will be assessed.
Minimum Propane delivery is 100 gallons unless the tank capacity is less and then a fill would be requested. If under the minimum a $20.00 charge will be assessed.
A delivery charge of at least $40.00 will be assessed if the delivery is needed on the same day as order is placed before 3:00 PM. Please try to give the office at least one day prior notice when ordering fuel.
If a prime of a furnace is needed there will be a $15.00 charge assessed.
If requesting an Off Route delivery for a delivery needed in an area that we are not scheduled for on that day a minimum of $125.00 charge will be assessed. This also includes after 3:00 PM on the same day, nights, holidays and weekends.
Our delivery drivers always make their best attempts to deliver. Sometimes there are circumstances beyond our control such as driveways that have not been plowed and sanded, roads that have excess mud or construction on roads that do not allow us to gain access to properties. In these cases we will make every attempt to contact you and let you know of the situation and reschedule accordingly.
All tanks, whether propane or oil, need to be up to code in order for us to deliver. If we find a situation that needs to be addressed before we can deliver we will let you know so that it may be fixed. Safety is of top concern for everyone.